Our lawn pest control program will eliminate grub and all unwanted insects feeding on your lawn. Safe for bees, earthworms, pets, and people, our lawn pest control protocol will keep your lawn green and healthy.
We specialize in lawn pest control in Southeastern PA.
160+ Google Reviews. Claim a FREE estimate NOW!
Professional, friendly & knowledgeable service. Highly recommend!
Mary Jane Fisher
I HIGHLY RECOMMEND them for your lawn service."
Christopher Stewart
I think they are the best in the business.
John McDevitt
Quality Lawn Pest Control
Do not let grub and insects ruin your investment. DTL Total Turf Care's lawn pest control will protect your lawn from insect aggression feeding on your turf. We have treated hundreds of properties in Chester, Berks, and Montgomery Counties, PA. Our process is safe and has made a difference. Get a FREE estimate today.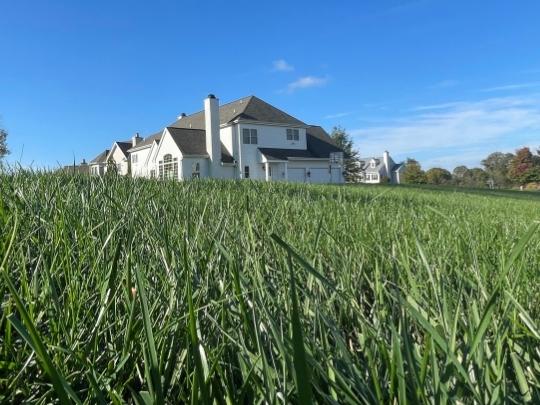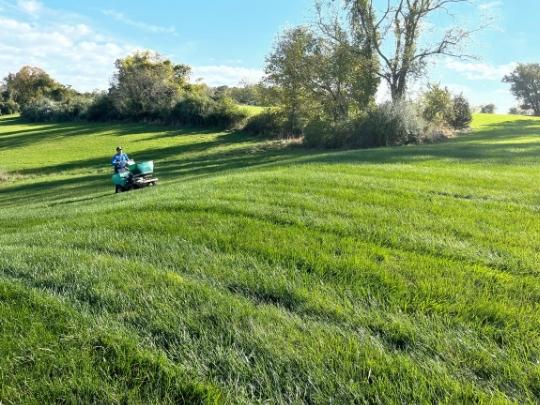 Pests can destroy a beautiful lawn in a short time if not prevented or properly treated early on. Therefore, our lawn pest protocol is paired with situational curative treatments to take care of the most common lawn-feeding insects to keep your lawn healthy and green. Contact us for a FREE quote now.
We know that a lot of time, patience, and hard work go into making a lawn look great. Our goal is to ensure that all of that hard work doesn't go to waste, getting ruined by grubs or insects that can destroy your lawn.
Learn more about what steps you can take to ensure your lawn gets the care it needs.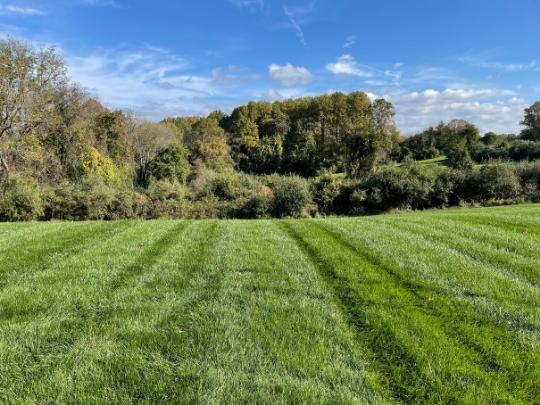 Larvae of several varieties of beetles found in our area can be highly destructive to lawns.
Grubs eat the underlying root system. Grub damage will start to appear in late summer into early fall. Areas on the lawn may turn brown or seem to lose color.
If you observe damages to your lawn, you will need a curative grub control treatment and will most likely need to re-seed those damaged areas.
If you manage to identify a few stray grubs in the spring, don't worry; it is doubtful that they will damage your lawn during this time of year.
However, it is crucial to ensure that you have preventive grub & insect control treatment completed in the late spring or early summer (June/July). It will act to prevent potential damage later in the year.
All our estimates are completely free. There are no hidden fees or aggressive commercial tricks.
If you like our approach and proposal, we kindly invite you to claim your FREE quote here.
Chinch Bugs, billbugs, sod webworms, and armyworms are some of the most common lawn pests that can damage your lawn. 
Therefore, our specialists can identify which of these insects are destroying your lawn. After our initial assessment, we will offer our recommendations to cure the current condition and implement preventative treatments to minimize the chance of the issue.
These insects, called "surface-feeding insects," feed above ground unlike grubs, who feed on the roots of your grass plants. 
Surface-feeding insects will often be found in the thatch layer of the grass in late spring through early fall. Infected areas of grass will start to lose color and can sometimes even look chewed-off or wilted. Surface insects often start in a healthy lawn area and keep spreading to healthy areas once the damage is done to their first location. 
Chinch bugs are tiny, about 1/8″ in size, and may appear to hop from blade to blade. 

Sod webworms are tiny larvae, about 1/2″ long, and often create small holes in the soil and silk-lined tunnels. 

Billbug larvae will appear almost like a small grub, only at around 3/8″ in length, and will not have legs, similar to a grub.

Armyworms are small greenish-brown worms, about 1" long, and can be seen on the grass blades 
As these insects can do a lot of damage to your lawn, we ensure that you have the right program to fight back and keep your lawn healthy.
Our products are carefully selected from reputable top-tier suppliers who have a track record of positive results and environmental consciousness.
Our methods of application are the fruit of know-how and years of experience.
At DTL Total Turf Care, we care about bees, earthworms, and our beautiful Chester County, PA.
Pest control is one of the essential pillars of lawn care.
Investing in lawn pest protocol as part of your lawn care services is the best way to deal with the problem before it becomes out of control and more expensive to fix. 
The investment will be worth it especially if you care about your lawn and consider your it a part of your property's value.
Enjoy The Benefits of Custom Lawn Care Plans.
Give us a call or claim your FREE estimate!