Transform Your Construction Site into a Lush Green Oasis with Our Lawn Program.
Tired of looking at a barren front yard that resembles a construction zone? We've got your back! Our experienced team of professionals can give your outdoors a whole new makeover.
Over the years, we've helped numerous new homeowners transform their lawns into verdant green spaces they can be proud of. And if you're located in Southeastern PA, you can claim a FREE estimate today! Don't wait; let's get started on your dream lawn today!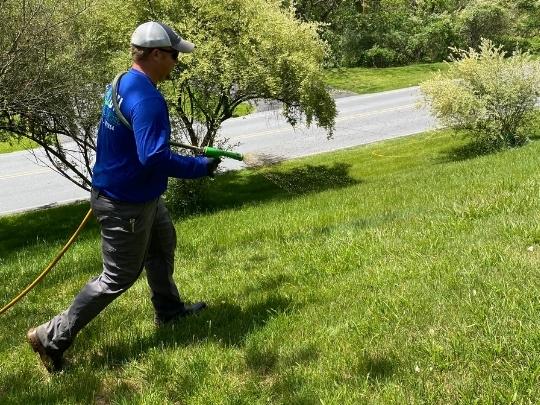 New Construction Lawn Care
New construction lawn care is a pain for most homeowners. You've just finished building your dream home, but the landscaping is messy!
It's no secret that newly constructed homes present unique landscape challenges. All that dirt and construction debris can quickly turn a beautiful lawn into an eyesore.
We offer a unique new construction lawn program to get your lawn on the right track. Our gentle but efficient process has helped many homeowners of Chester, Berks, and Montgomery Counties, PA.
Get a FREE estimate from our lawn technicians today and see the difference we can make. With over 160 Google Reviews, you can trust us!
Very personable and high-quality work!
Andy Joyce
I saw the improvement in my lawn by the end of my first year of treatment, but now this second year, it looks like a major league ballpark..
William Wardle
My lawn is impressive.
Marty Bycek
Try Our Soil Synergy Program!
Our Soil Synergy Program provides everything you need to get the healthiest, greenest lawn imaginable.
The high-performance program includes an eight-step application plan of fertilizers, bio-stimulants, and soil amendments that boost nutrient uptake and encourage healthy root growth.
Each process step is carefully planned to ensure maximum effectiveness on your lawn. For example, our specialty-designed fertilizer strengthens turf roots from within using organic practices so your lawn reaches its peak performance potential. A unique and safe bio solution is designed to provide essential nutrition to help your grass maintain its lush appearance.
Let us take that burden off your shoulders with our help! We firmly believe that every homeowner deserves a beautiful, radiant lawn they can be proud of, and we're here to deliver just that!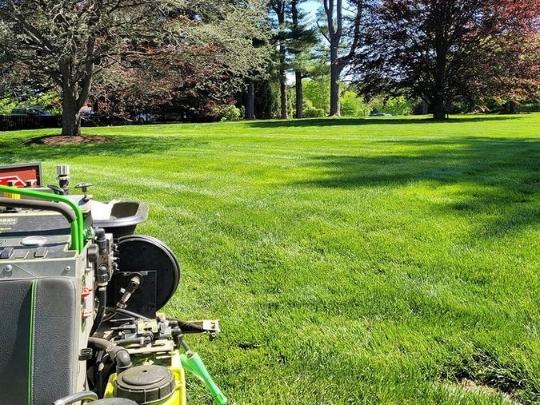 Start Your New Construction Lawn Program
Let us help you move your lawn from dirt and rocks to a lush green carpet! Our lawn tech team has the specialized equipment necessary for efficient lawn makeovers. When partnered with our cutting-edge Soil Synergy Application program, your lawn will grow and thrive.
Due to its uncompromising commitment to eco-friendly measures, we use sustainable processes throughout projects. It is time to switch gears and make this upcoming season remarkable by returning nature to timely seasonal love. Contact us or book an evaluation session today!
FERTILIZATION
WEED CONTROL
PEST CONTROL
LAWN DISEASE CONTROL
CORELESS AERATION
OVERSEEDING
BARE SPOT REPAIR
SOIL ANALYSIS
Why Choose DTL Total Turf Care?
Our innovative new construction lawn program will make your grass healthier, lusher, and greener than ever. Our unique formula provides all the vital nutrients your lawn needs to grow strong and beautiful, with results you'll start seeing after just a few applications. Your lawn will be more resilient and denser and have a stunning emerald hue that will make your family proud.
New Construction Lawn FAQ
At our lawn landscaping company, we're all about making your yard look pristine. While we won't handle waste removal or clean-up construction materials, we'll still take care of your grassy oasis.
We'll even survey the area to ensure all debris is cleared before we plant your beautiful new lawn. Our team always starts with a thorough walkthrough to guarantee we can give you the best service possible.
To achieve a thriving lawn, you must ensure it's fed, hydrated, well-aerated, and exposed to sunlight. However, compacted soil can affect your lawn's health, hindering the roots from getting the essential elements they need to grow.
Unfortunately, compaction is inevitable, especially on construction sites where heavy-duty equipment and constant activity can compress the soil. While compacted soil may be ideal for builders, it doesn't bode well for turf growth as it stifles the roots.
The good news is that you can combat this issue by loosening the soil before planting grass seeds. This crucial step will give your lawn the air, water, and nutrients it needs to flourish. So, don't let compaction cramp your lawn's style- loosen up that soil and watch it thrive!
Creating a beautiful lawn is an art form; our team has it down to a science! Our Lawn Fertilization Programs offer tailored packages for different soil needs, ensuring all our clients get the best results possible.
But if you're looking for the ultimate lawn perfection, you need our New Construction Lawn Synergy Program. With eight expertly crafted applications, including two essential steps not found anywhere else, your lawn will be the envy of the neighborhood!
We understand that different soil conditions and budgets require flexible options, so we'll work with you to determine the perfect solution. Don't hesitate to explore our incredible lawn fertilization page and discover the many pathways to lawn Nirvana.
At our business, we don't mess around with gardening. Instead, we specialize in giving your lawn the VIP treatment with our personalized nutrition plans and top-notch turf healthcare.
Sorry, we won't plant any flowers, trees, or shrubs for you. We do not install mulch either – but we can recommend some fantastic lawn-mowing and landscaping companies if you need help.
Enjoy The Benefits of New Construction Lawn Care Plans.
Give us a call or claim your FREE estimate!